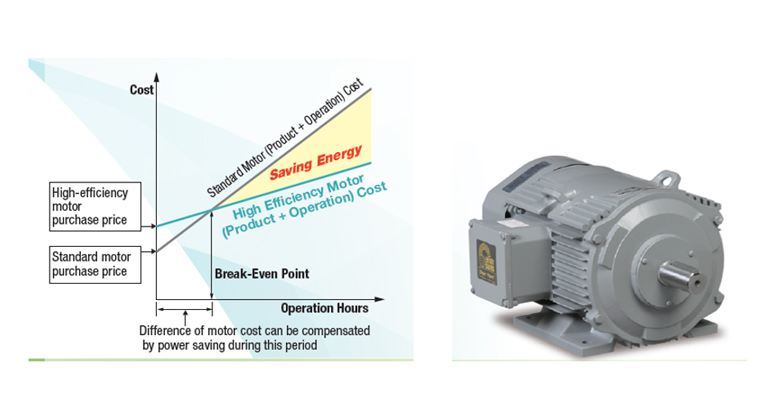 1st October 2018 --- To improve the energy efficiency of electric motors and industrial facilities in Singapore, the National Environment Agency (NEA) had introduced new requirements to align with the international standards. The single speed 3-phase induction motors sold in Singapore are required to register with NEA and meet the minimum energy level of IE3 (International Energy Efficiency Class 3).

Concurrently, Industrial Components and Equipment of Hitachi Asia Ltd., has proceeded to register the IE3 motors with NEA under Energy Conservation Act "MEPS".
Features of Hitachi IE3 Motors:

1. Global standard

Conformity to JIS C 4213 (Japan) [Efficiency class: IEC60034-30 Premium efficiency class (IE3)
2. High-efficiency

Compare to the standard motors, iron core shape is improved and material quality is raised
Motor loss is reduced 30~40%
This improvement realizes higher efficiency when compared with the standard motors
3. Long motor life

The temperature of stator coil has been decreased at 10~20°C under a rationalization design and a high cooling effect for an electric part
The coil insulation is achieved two times longer on operation life compared with the standard motor
The bearings are also 2.5 times longer on operation life
The operation life changes depending on operation conditions
4. Inverter operation is also available (1:10 or 1:20 constant torque)

0.4~1.5kW 4P is available to operate with 1:10(6~60Hz) speed under 100% constant torque operation using the inverters (in case the sensorless vector inverters are used) 1:20 (3~60Hz) is also available with the special design motors. These motors are adopted durable insulation system with advanced technology
5. Furthermore benefit

Low noise and vibration can be realized with advanced technologies
6. Operational cost saving

Considering the operation cost under long term period, the best idea is to adopt the high efficiency motors
The point is just not to consider the initial cost of motor but overall cost including long term operation
The advantage of Hitachi IE3 motor is very effective for electricity consumption reduction comparing to the standard motor. Hitachi IE3 motor loss is reduced 30~40% and we are able to get almost 5% energy saving if the motor is replaced from IE1 to IE3 thus save "energy cost".

Most of the life cycle costs of the motor are electricity rate. The longer we used IE3 motor, the more we can save from electricity cost.
[Example]

Application: Facilities cooling-water pump
Motor: 45kW 4P (efficiency IE1: 90.2%, IE3: 95.1% at 50% load)
Condition: Load 50% driving time 8,160hr/year, energy ratio 14.3 JPY/kWh
Save cost: 153,233 JPY/year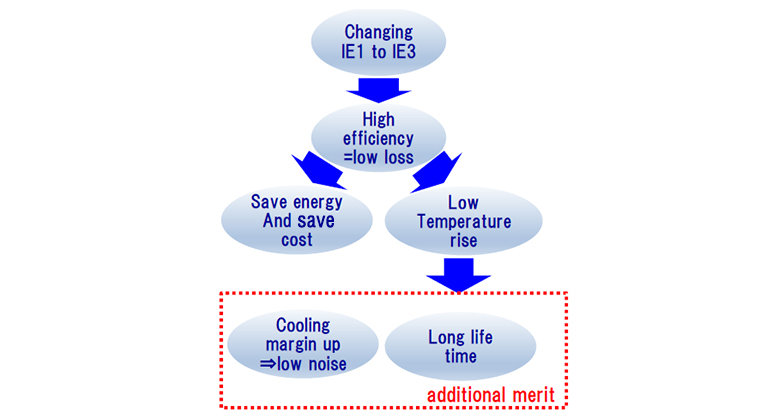 Our product adapts to the following IE3 regulation:
| | |
| --- | --- |
| (EU) | High-efficiency regulation (commission regulation (EC) No.640/2009) |
| (China) | Minimum allowable values of energy efficiency and energy efficiency grades for small and medium 3-phase asynchronous motors (GB 18613-2012 class GB2) |
| (USA) | EISA (Energy Independence and Security Act) regulation |
| (Taiwan) | Chinese National Standards (CNS14400) |
| (USA) | EISA (Energy Independence and Security Act) regulation |
| (Singapore) | MEPS (Minimum Energy Performance Standards) |
Premium Efficiency1E3 Motor Complies with Singapore NEA's MEPS of IE3

In order to read a PDF file, you need to have Adobe Acrobat Reader installed in your computer.