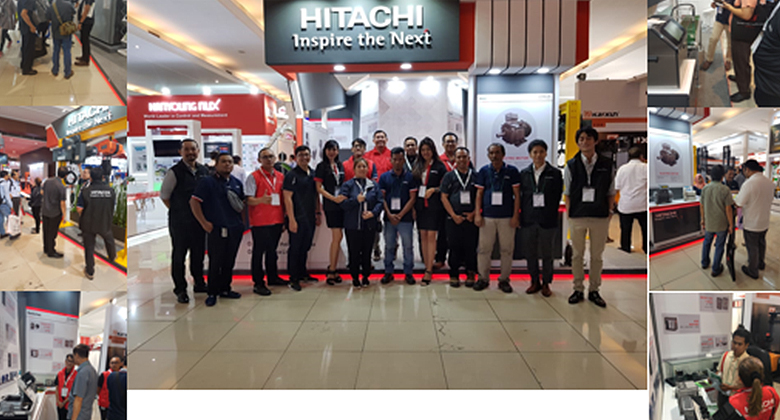 Manufacturing Indonesia 2018 Series of exhibition, the largest international exhibition of manufacturing technologies and services in Indonesia, ended on a high note marking a tremendous 32 years of expertise by providing thousands of smart machines with embedded manufacturing technologies from over 28 countries. Being held in conjunction with Machine Tool Indonesia, Tools & Hardware Indonesia, Industrial Automation & Logistic Indonesia 2018, and the inaugural industrial subcontracting exhibition, Subcon Indonesia 2018, Manufacturing Indonesia is ready to be the conveyor of the Industry 4.0 roadmap in Indonesia, attracting 34,959 potential buyers and industry professionals as well as preparing Indonesia in embracing the new era of globalization.
Taking this opportunity, PT Hitachi Asia Indonesia participated in the event held in Jakarta, Indonesia from 5th – 8th December 2018 and showcased various Sanki products such as air compressor – OSP-37M5AN2, Ink Jet Printer – UX160W complete with conveyor for demonstration of printing, Inverter Rope Hoist, 1T Chain Hoist, motor, vortex blower, Inverter (SJ700N, WJ200N and SJ-P1 Series) and switches (H Series, HS Series, F Series).
Over the 4-day event, we were able to meet and interact with guests about the benefits of our products incorporating the latest technology and service solutions. We have about 438 visitors visited our booth and we received 103 enquiries which we have forwarded to our master dealers to follow up.
The event concluded successfully with impressive attendance and strong indication of business transactions with a total of 40 Japanese excellent manufacturing companies participate at the exhibition.
According to a data by World Bank in 2017, Indonesia's contribution in manufacturing sector now boasts the highest rank in Southeast Asia, estimated to reach 20.5% to the world economy. A research from United Nations Industrial Development Organization (UNIDO) added that Indonesia ranks number 4, out of 15, in the list of countries with highest contribution of manufacturing sector to GDP over 10%.
In order to read a PDF file, you need to have Adobe Acrobat Reader installed in your computer.